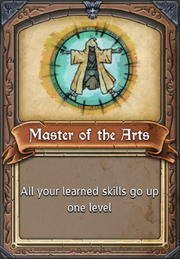 All your learned skills go up one level.
Master of the Arts can apply to character skills that you get for free at the beginning of the game.
Invaluable if you have a large collection of low-level perks as this one perk is potentially worth upward of 10 levels.
Doesn't work on level 5 perks (cannot increase to level 6). Also doesn't work on 'one-shot' perks (non-level perks).