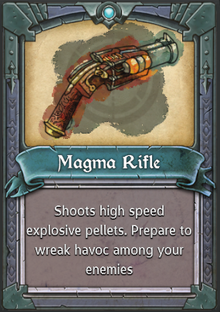 "Shoots high speed explosive pellets. Prepare to wreak havoc around your enemies"
This gun fires an explosive shot that will cause splash damage (and has zero bullet drop). It can hurt the player if caught in the damage zone.
Primary Fire: Fires one shot, quite strong and nice rate of fire. Projectile continues along in a straight line.
Secondary Fire: Fires a 5-wave shot that has a slower reload time.
This gun does have splash damage so use it against groups of enemies. You should only use the secondary fire when you need a large but quick splash damage at a target. Even using this gun against one enemy is worth it, with its high damage.